Ellie Pritts: Practicing Transcendental AI (A Film By ZORA)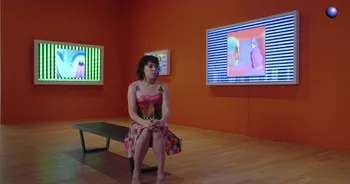 Description
This video takes a deeper look into the creative practice of artist Ellie Pritts on site at her solo exhibition "In The Screen I Am Everything" at bitforms NYC.

"In The Screen I Am Everything" introduces Ellie Pritts' recursive practice of working with technology in iterative stages. The exhibition presents new works that combine analog video, glitch aesthetics, self-portraiture, and AI-collaborative imagery. Printed portraits, polychromatic flowers, wallpaper murals, and hypnotic video share insight into the artist's dazzling world of colorful possibility.

"In The Screen I Am Everything" is a metaphor and attitude for much of Pritts' work celebrating the screen as a playground without the boundaries of physical reality and limitations due to degenerative CMT disease. It is presented as a possibility, a call for presentness and potential. With the constant churn of technology, the artist digs into the biases of AI while challenging herself and viewers to a broader self-understanding.