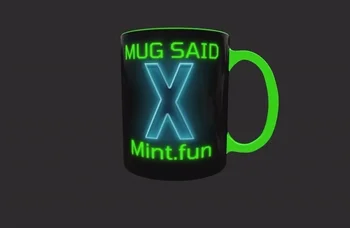 Description
Mug Said x Mint.fun - 555 limited edition 3-D mugs minting in support of Base L2.

Mug Said is a culinary backed DAO community building the world's first opensource web3 internet cafe in Atlanta, Georgia owned exclusivly by our Mug NFT holders. All profits will be redistributed back into the cafe ecosystem.

The cafe ecosystem will incorperate a nostalgic 90s-00s feel while featuring the most futuristic technology and vibes. Upstairs in the cafe, we will also provide an on-site event venue for hosting digital artists and NFT collections.

Our futuristic opensource web3 cafe will work closly with the latest in Artificial Intelegence, robotics, and Web3 technology creating a completely self-sustained cafe ecosystem 100% on-chain using renewable energy while minimizing waste by adopting and developing more eco-friendly concepts and systems via opensource ideas and contributions.

Help us build something real for the NFT community. Help us, help you.